The risk level of children with Special Education Needs (SEN) facing health issues and drug taking is similar to ordinary people. Therefore, CDAC try to enhance the protective factors for them, based on their characteristics and needs. Regarding the development of personal anti-drug abilities, we use life skills-based programmes to improve their personal images, emotions, social skills and living skills. In the aspect of family protection, our design is centred on Satir Model. The projects aim to help parents acquire better caring skills and knowledge about drugs. Then they can relieve their stresses, minimising their own risks of drug abuse, whereas their SEN children are less likely to be influenced by others. To help SEN children to address to the future changes in life, our services try to improve participants' resilience and help them overcome stresses and temptations in workplace.
星級大作戰 (Delivered in Cantonese only)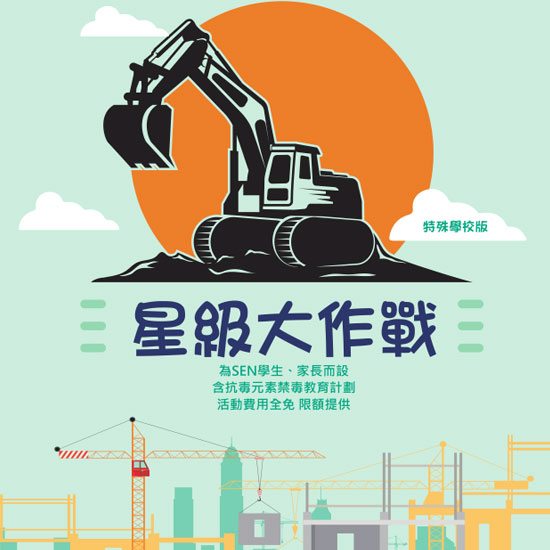 Secondary school students suspected or diagnosed with SEN (schools not participating in Healthy School Programme), students in Special Schools and their parents
Inheriting the characteristics of the previous project 星級成長路II, 星級大作戰 serves children with SEN, their parents, schools and communities and tries to build an anti-drug safety net for SEN children and their parents. Besides paying attention to the development of SEN children, the needs of their parents cannot be ignored.
Therefore, the project employs the Satir Model. Parents are requested to share their real life experiences and self-evaluate their own parenting skills. In this way, they can better understand the needs of themselves and their children. Moreover, the project has a talk for parents, which covers various topics, including: taking care of SEN children; analysis of their children's thoughts; handling the issues and emotion arising from taking care of their children in a positive way; and providing correct knowledge about drugs. The project tries to build a drugless environment for the development of SEN children, while it also takes care of the physical and mental health needs of the parents.
The project arranges healthy leadership group (健樂領袖小組) for students suspected  or diagnosed with SEN. These groups use games and artistic techniques to help students establish the concept of healthy life, enhance their self-confidence and explore their potentials. Students who finish this group programme are appointed as healthy leaders (健樂領袖).
Free of Charge (Covered by The Community Chest of Hong Kong )
Hotline﹕25212880
Email﹕service@cdac.org.hk